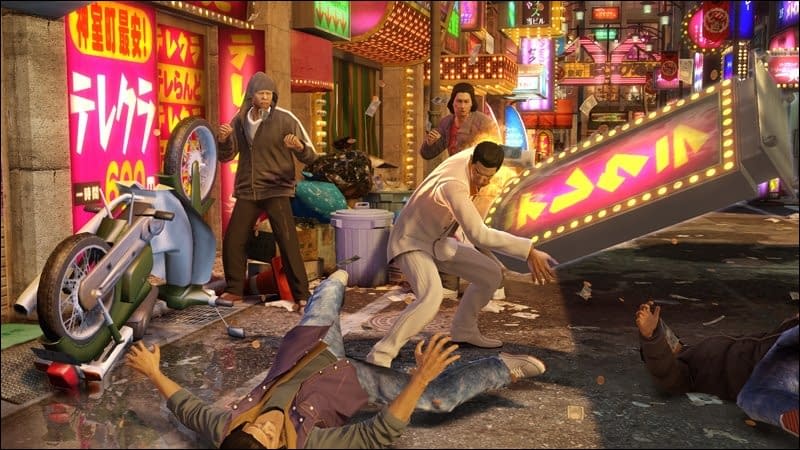 Yakuza 0 is an action adventure game by Sega that is set in the late 80's. It's an open-world environment, played from a third-person view. This is Sega's prequel to the original game and it follows the story of Kazuma Kiryu (but it can switch to Goro Majima at certain points of the game). The plot centers on a dispute about the "Empty Lot" as to who should rule the territory among the mafia organizations. It just so happens the man that Kiryu has collected money from ended up dead in that Empty Lot. He is suspected of murder and to make matters worse, one of his bosses sets him up while he tries to investigate and clear his name with other members of the clans for getting himself involved with the Empty Lot situation.
First and foremost, Sega has done an incredible job of telling the story behind the power struggle amongst rival clans, which is depicted through a great construction of a fictitious city in Tokyo and Osaka, Japan. The gameplay is smooth and the controls are easy to understand. The animation is solid and the graphics are impressive! As you progress through the game, your character grows in skills, which add an immersive experience in dealing with thugs, hoodlums, and especially bosses. When you defeat enemies, you gain money and the game gives you a lot of it! You use the money to buy new abilities off of a skill tree. While the heavy doses of your attacks are comprised of punches and kicks, you can mix them with car doors, bicycles, or sign posts for bone crunching combos and brutal takedowns!
Yakuza 0 lets you interact with people on the street, which will trigger side-quests that has 100 stories to discover. But, if you want to take on another kind of challenge, Sega has included several minigames. They are fully playable versions of Sega Arcades such as Super Hang-On, Out-Run, Fantasy Zone, and Space Harrier. Yakuza 0 is the epitome of what a story-rich, open-world action adventure should be but unfortunately, gamers will be hugely disappointed by the fact that it's marreby by one simple feature: autosave. Since the last update, Sega has remove this valuable feature and so players can no longer save their progress anywhere. It forces players to run around and find the nearest phone to make a save, which can take forever because they are spread apart. If you are familiar with the Yakuza series, the chapter is long. By removing the autosave feature, it can be a frustrating gameplay experience.
Yakazua 0 is a great action adventure game; Sega scores big time on that! It has an intense storyline, engaging combat, and tons of distractions with interesting side-quests and minigames. It has taken long for the series to finally hit the PC platform and Sega has done an awesome job of maintaining the glitz and glamour of portraying Yakuza, living life on the edge. It is too bad the game is hampered by the exclusion of the "save anywhere" feature. Some gaming communities suggest tinkering with the .ini file within the game's subdirectories. In doing so, there is a chance that your save will corrupt. In the end, Sega may need to create a better saving method to give players confidence knowing they still have hours of progression intact. The game would have received a higher score if not for its antiquated save function – but damn, Yakuza 0 is one helluva richest crime drama to tell the next generation.


FINAL SCORE: 8.0 OUT OF 10