The Gigabyte motherboards have been my go-to infrastructure for video editing, gaming, and content publishing. I am not saying Gigabyte is the best brand out there but it is the most consistent, the most durable, and the most universal product for me.
I can add any PC parts to it and they run 99% success rate. For my 10th generation 10700k rig, I had gone with Z590 UD AC. It supports LGA 1200 processors, which includes 10th and 11th Generations Core Series.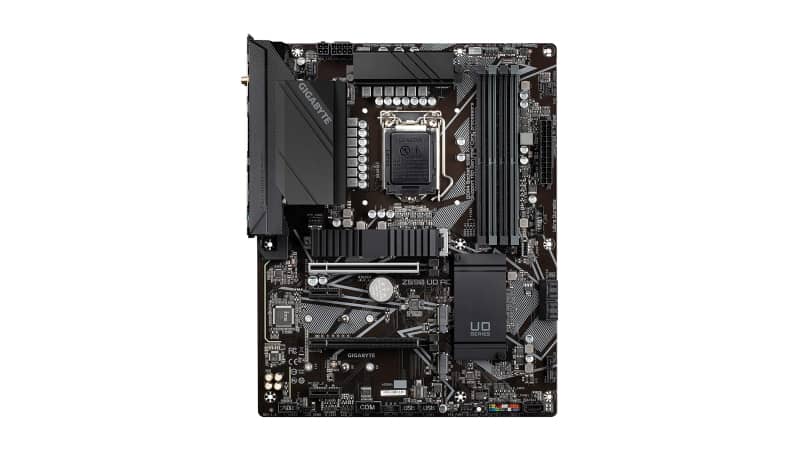 From the overhead view, the Z590 is equipped with 4x DDR4 slots. You can populate each slot with a 32 GB module for a maximum of 128 GB RAM! But for this build, I am using a Corsair Vengeance LPX 16GB (2x8GB) memory kit and it fired right up without issues.
TIPS and TRICKS No.1: If you are going to use only two sticks of RAM, I highly suggest installing them on A2 and B2 slots; this will avoid boot issues when you take advantage of the XMP profile in the BIOS. (The XMP profile is a setting that provides your RAM modules higher than standard memory speed.)
One of the reasons I chose Gigabyte Z590 UD AC is the built-in Bluetooth 5.0 adapter. With version 5.0, the connection to wireless devices is faster and more reliable. It gives me better audio quality, better pairing capacity, longer range transmission, and a very stable connection to my wireless headset and gaming controllers.
I didn't want to rely on third-party plugin adapters anymore – as most of these micro dongles require hard-to-find drivers that actually work with my system. Latency issues and awful location awareness are very common with such devices. I just don't have the juice to be dealing with the heavy onsets of wireless disconnection.
The Z590 UD AC offers three PCIe M.2 Connectors. The first one has Gen4 x4 and compatible up to the newer 22100 format. The other two only have Gen3 x4 lanes and they can accommodate up to 22110 as well.
For my main SSD, I have decided on the 500GB Samsung 980 M.2 NVMe MZ-V8V500B. I would have gone for the 1TB version but I had to stick with my $2000 budget. So far, I have been able to clock its speed on Crystal Disk Mark with 3300 MB/s Read and 3100 MB/s Write. It helps a lot with installing and switching between multiple apps!
Besides the incredible speed, the main reason I had chosen the 980 for this build is its amazing thermal design. The Samsung 980 comes with a Nickel coated controller, which in layman's term helps dissipate heat fast!
On other NVMe drives, you'll have to buy additional heat sinks to keep the temps cool, which an expense I can't afford. With the 980 I don't have to worry about adding anything extra!
TIPS AND TRICKS No. 2: If you are going to install an NVMe drive, please DO NOT put it in the M2P slot of the Z590 UD AC motherboard – the one near near the CPU. The only time you can stick it there is if you have the 11th generation core processors such as 11700k and 11900k. Otherwise, your PC won't boot at all!
Speaking of CPU, the one I am using for this motherboard is the 10700k. It has 8 cores with 3.8 GHz base speed. It is unlocked and so I can overclock the processor up to 5.1 GHz.
Currently, I am at 4.4 GHz stable and I am using the ID-COOLING SE-224-XT cooler fan with 180 watts TDP. My experience with the CPU temperature is great so far, hitting up to 65 Celsius on Need for Speed Heat in ultra setting.
The Z590 UD AC also offers a great Wi-Fi 802.11ac connection and a fast 2.5GbE LAN. Whether you're in the attic without ethernet wiring or in the basement with a long Cat6 cable, you can access Internet anywhere and anytime.
In order to take advantage of the full potential of 2.5GbE LAN, you must have a network capable of more than 1 gig internet speed. Go to speedtest.net to find out how fast your Internet is. As for the Wi-Fi, you will need to screw in the bundled antenna, otherwise you won't get any Bluetooth or Wireless signal.
Z590 UD AC provides a whopping 9 ports! You get 2x Red 3.2 Gen 2 USB ports, 4x Blue USB 3.2 Gen 1 ports, 2x Black 2.0 USB ports, and 1 serial port for keyboard or mouse.
Unfortunately, one of the downside of this motherboard is not having an HDMI input. You are forced to use a single Display port. I can live with that. I can always order HDMI converters if need be.
Anyway, I finished my build with a GTX 1660 Super, a 80+ Gold 750-watt PSU from Aresgame, and a beautiful Zalman Z7 Tempered Glass PC case.
People asked me why I didn't go for Core i9 11900k or Core i7 11700k. Well for two reasons: (1) The cost is about $300 more. (2) The memory sticks that I have will not get the advertised speed. Yes, many PC builders have reported that their RAM speeds are not reaching their rated potential.
Overall, I am very pleased with the Z590 UD AC. My system will stay "relevant" for at least the next 4 to 5 years. With this build, I am able to stay under $2000 budget and still have fun with some of best triple AAA games out there. Here are the links to my parts:
Total Cost of this rig is $1500. But with $150 tax, it comes out to $1,655. (Prices have changed since the posting of this review.)
Motherboard: https://www.amazon.com/dp/B083HZ6D35?psc=1&ref=ppx_yo2_dt_b_product_details ($170)
Processor: https://www.amazon.com/dp/B086ML4XSB?psc=1&ref=ppx_yo2_dt_b_product_details ($320)
CPU Fan: https://www.amazon.com/dp/B082V7TCSB?psc=1&ref=ppx_yo2_dt_b_product_details ($26)
M.2 PCIe Drive: https://www.amazon.com/dp/B08V7GT6F3?ref=ppx_yo2_dt_b_product_details&th=1 ($60)
Memory Kit: https://www.amazon.com/dp/B0143UM4TC?psc=1&ref=ppx_yo2_dt_b_product_details ($78)
Power Supply: https://www.amazon.com/dp/B08SQFJW7H?psc=1&ref=ppx_yo2_dt_b_product_details ($70)
PC Case: https://www.amazon.com/dp/B07YXXYRTQ?psc=1&ref=ppx_yo2_dt_b_product_details ($80)
Graphics Card: https://www.amazon.com/gp/product/B07ZK69HDK/ref=ppx_yo_dt_b_search_asin_title?ie=UTF8&psc=1 ($700)
FINAL SCORE: 9.0 OUT OF 10