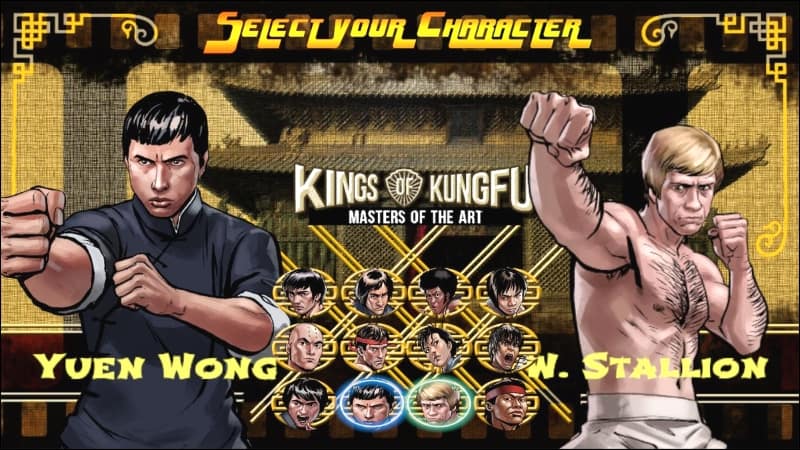 Kings of Kung Fu is a fast-paced 2D action fighter from Digital Tribe Games. Many of its combat aspects and martial art styles have brilliantly captured the 70's Kung Fu flicks we have come to love. The gameplay is a mixed between Enter the Dragon and Mortal Kombat without the gory fatalities.
The control is easy; it's a four-button combo dealer, which uses left punch/kick and right punch/kick. All the movements are performed via the D-Pad. There are three difficulty levels and eight playable fighters with more being added as the game evolves from its state.
The controls seem responsive enough and we are very impressed with the whole "Kung Fu" arcade mechanics. The game has wowed us with a number of cinematic scenes such as knocking your opponent with the final blow where everything goes into a slow motion, giving you that moment to savor towards a gratifying victory!
We like how the game has that flickering screen effect as if you're watching an old martial arts movie. We also like how it is designed to make you feel like you have fallen in love again with your other classic fighting games. From the character design to visual backdrops, Kings of Kung Fu is well thought of.
The sounds and animations are spot on, bringing the ancient culture of the martial arts world to life! This is definitely a Kung Fu movie fan dreams of and for an "early access", it's a pretty damn good release. This is Kung Fu fighting at its best, just raw skills with a nice, refreshing flavor.
The amazing special effects and gritty presentation really deliver that 70's Kung Fu flick feel! You won't find a better Kung Fu game on early access with good soundtracks and a chance to become a martial arts legend than this one!
FINAL SCORE: 7.0 OUT OF 10