With the battle to contain COVID still far from over, more and more people are being forced to work offsite. I know because I am one of them. Doing these telecommute jobs can be mentally straining, especially if you work longer hours at the computer desk.
And if you are not upgrading your workstation or taking necessary steps to establish a more comfortable work session, you're going to deal with all kinds of aches, which includes neck, shoulders, legs and the lower back. I know because I suffer from them.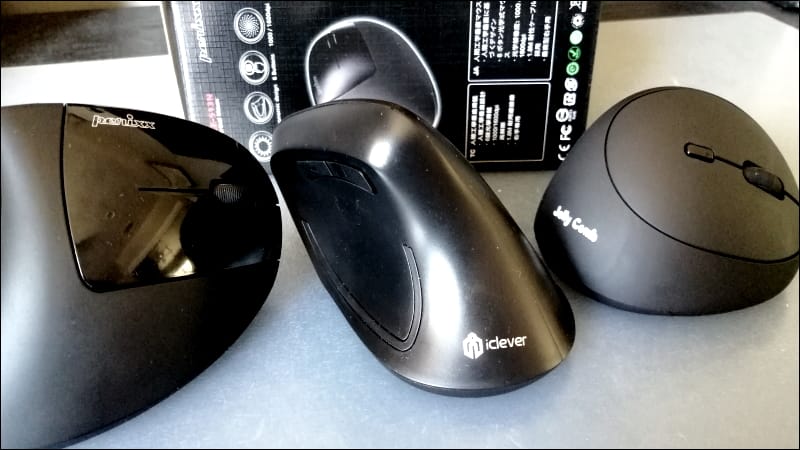 Now that I spend more time online in carrying out loads of work, I find myself in need of better support to control the aggressiveness of median nerve compression. (That's a miserable condition that develops from long-term repetitive use of the mouse.)
I know some of you guys can relate to that. So, I am here to tell you that by simply replacing your traditional mouse for a vertical one can make a lot of difference in productivity. I bought three vertical mice and tested their durability, functionality and ergonomics. And here's what I found.
iClerver Vertical Mouse (5.27 x 3.34 x 3.11 inches)
Pros: Large Size, Responsive, Good for Gaming
Cons: Uncomfortable for Small Hands, Windows Only
Amazon: Click Here for the iClever Vertical Mouse.
This vertical mouse has an amazing ergonomic design. It's beautiful, sleek and sturdy. The extra grooves provide healthy position to keep pinky relaxed at all times. It also has four adjustable DPI (1000, 1600, 2000, and 2400).
This is a big mouse, scaling over 5 inches in length! So if you have large hands, this is the perfect size for you. The most impressive feature so far is its ultra-quiet clicks! You'll have to literally place the mouse close to your ear to even hear those buttons clicking!
The mouse runs on 2.4 GHz bandwidth with a working distance of about 30 feet. So far, I haven't noticed any lag or disconnection within that range. In terms of performance, the mouse is very responsive and the polling rate is decent enough for gaming.
I tested this mouse on various surfaces as well. And incredibly, it was able to pass them with flying colors! Keep in mind that the mouse operates on 2 AAA batteries instead of the usual 1 AA.
The manufacturer says the batteries should last 3 months but I'll have to wait and see if that holds true since I use it frequently. It's good to know though that it comes with energy saving feature. It turns off or goes into sleep mode in 10 mins without activity.
FINAL SCORE: 8.0 OUT OF 10!
Jelly Comb Vertical Mouse (4.60 x 2.70 x 2.30 inches)
Pros: Very light, Small Hands, Affordable
Cons: No Mac OS Support, Requires More Adjustments
Amazon: Click Here for the Jelly Comb Vertical Mouse.
The Jelly Comb vertical mouse is another mouse to consider if you're looking for an ergonomic one! It's not as vertical as iClever but the same level of great comfort is there. It's pretty sturdy and it's the most affordable of the bunch (going for $15 selling price).
In terms of performance, it's great on productivity but terrible at gaming. The built-in DPI (800, 1200, 1600) is somewhat fuzzy. I had gone through many mouse settings in Windows 10 to get an accurate respond, or as close as the polling rate of my old mouse.
But once you've found that right balance, you'd definitely love what this mouse can do for your productivity. Just a little heads up – this mouse is essentially made for smaller hands.
Also take note that the middle button, which rests squarely on the scroll wheel, is very sensitive. For instance, when you are scrolling a website, the middle button suddenly becomes a slider cursor. This is annoying because you lose the context of your reading.
FINAL SCORE: 6.0 OUT OF 10!
Perixx Perimice 713 (4.92 x 2.44 x 3.03 inches)
Pros: Multiple OS, Modern Design, Amazingly Comfortable
Cons: Sometimes Laggy, Requires 2 AAA Batteries
Amazon: Click Here for the Perixx Perimice 713.
Perixx Permice 713 is a German-made vertical mouse. It's amazingly shiny, sharp and high-tech looking! This is probably the most comfortable among the three mice I have purchased.
Though the design is straight-up vertical, it didn't lose the purpose of its ergonomic functions, which is to have that natural hand positioning. The material of the mouse seems to revolve around a high-quality rubber coating, giving that tough, sturdy build.
The DPI button on the top allows you to switch between 1000, 1500, and 2000. The LED on the left side blinks whenever you make that change, which corresponds to the lowest dpi setting first. Then it goes up from there. The operating range of this mouse is about 30 feet away on the 2.4 GHz bandwidth.
The actual mouse movement is very accurate even on a rough surface. The scroll wheel is incredibly smooth. And I didn't have to adjust anything in the mouse setting of Windows 10 to get it up to speed. The click buttons are quiet but not as soft as iClever.
My only gripe is that it sometimes lag. If that happens to you, try to move the receiver to another USB slot, which seems to fix the problem. Anyway, if you want to have the best experience out of this mouse, you must pair it with a gel-cushioned mousepad.
FINAL SCORE: 8.0 OUT OF 10!