In this edition of Tony Hawk, the game retains the same trick-heavy, skating formula from last year's effort, while outdoing itself by introducing a totally different goal structure, a revamped level progression, and a slicker trick system.
Also, there is a new storyline called "lifestyles" and an all-out probing of the world editor, which would give players numerous havens to skate in. It's obvious that developer Neversoft has made significant changes here.
We were concerned that there would be no room left for the series to improve upon. But given the series' reputation, there is always something to breakthrough. Tony Hawk's Proving Ground is no different from its predecessor and this one didn't disappoint. The game still nails what the series has been aiming for: Giving the fans the best skateboarding experience ever!
In Tony Hawk's Proving Ground, you get three career modes to choose from. But what's going to appeal most to gamers is the option for becoming a hardcore skater.
This portion of the career mode focuses on performing the best nail-the-trick arts. If that's not challenging enough, you can become a "rigger" whose sole mind frame is to tweak the landscape to which you can bust out some very outrageous stunts!
One of the features that would surely please the fans is the addition of Nail the Grab and Nail the Manual materials. They are both easy to pull off just using the right trigger and left trigger controls, respectively.
The key is in the rhythm. You master that, you are set for good. It's nice how instructional the latest Tony Hawk has become particularly when you're honing your skills. Even the pros in the game are wiling to teach you the ins and outs of skating, providing you with a better insight to the controls.
Like its predecessor, you can expect to deal with a plethora of goals in this game. Just so you know they are tied to specific locations and career, which will unlock several other pro skaters who will provide your next proving assignment.
Tony Hawk's Proving Ground is an open-ended gameplay at its core. It gives you the freedom to explore some of the famous landmarks in the east coast such as Philadelphia, Baltimore and Washington, D.C., while creating your own style of skate parks and stunt lots for some sick trick opportunities.
It has ambitious need for massive cities, much like Project 8, so players can skate for other stylish breakthroughs. Though the game heavily focuses on nailing different kind of tricks, there are other challenges involved.
You can take part in a magazine shoot where you will need to perform a specific stunt at certain locations. Or you can go with a video shoot if that doesn't suit your fancy.
Speaking of video, one of the biggest innovations of the game is its video editor. You can record awesome stunts and tricks – edit them as you would with any other video editor.
It features a full-function editing program, from filters and faders, to lens and borders. It's quite robust. You can even synchronize the reel to the beat of a soundtrack. After you have completed your video, you can share it with friends by uploading it online.
Tony Hawk's Proving Ground takes skating competition to a whole new level with its online modes. The much requested content by gamers is finally here—the game of HORSE and not to mention Nail the Trick Spots!
Also, you'd be pleased to know that the game has included a new rigger menu, which allows players full access for customizing their own online challenges.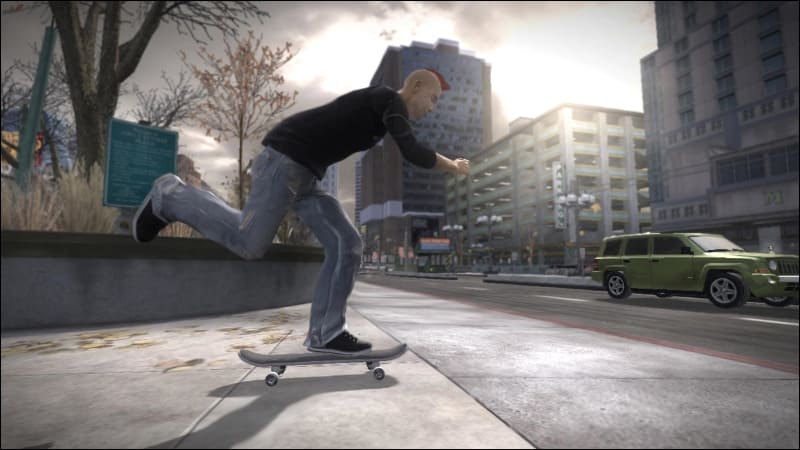 Graphically, the game looks polished with skateboarders packing in sharper textures and higher resolution this time around. The animation is fluid and the heavy emphasis on slow-mo effects really does capture the moment.
You'll appreciate the slight visual touches such as being able to identify key characters that possess a particular discipline, and interact with other skaters on the street.
The environment looks pretty sleek, populated with a hundreds of everyday citizens, and the soft background lighting creates an atmosphere that you are really there.
Each of the landmarks has their own distinct look and feeling to them. And the levels you participate in are easy on the eyes and very diverse.
Another highlight of the game's presentation is the skater customization options. Proving Ground gives you several designs to make your character as unique as possible, everything from physical features to urban attires.
What good are the graphics without the right music and sounds? Luckily, the Tony Hawk series have always been great at producing the best audio, and this game is no exception.
You'll be listening to the latest songs that are upbeat and very urban. There is an excellent collection of rock, punk, and metal, from old timers to generation x head bangers; you'll never run out of good soundtracks.
The sound effects and voice-acting in the game are superb. You'll hear the clacks of your skateboard rolling against various surfaces, the screech when you grind against metal bars or long guard rails, and the bones popping when you splat on the ground—that are sometimes all too real! At any rate, it's surprising how well the dialogues have turned out, considering some of the voices are skaters themselves. Needless to say, they carried out a solid performance on many cutscenes, which keeps the game alive and rather engaging.
Overall, Tony Hawk's Proving Ground is an impressive effort in keeping those involved in the skating world enticed. The game is intuitive, realistic, and precise, and that's what makes it captivating and unique from other competitors of the same genre.
With the addition of HORSE and Nail the Trick Spots, the online package just got more appealing! Tony Hawk's Proving Ground went into great length in reinventing new ways to expand the tricks you can perform, and the developer has succeeded at it.
As a result, the game not only lets you do amazing ground tricks but "towering" stunts as well. Everything in Tony Hawk's Proving Ground is taken to the next level from graphics and sounds, to goals and customizations.
What's more is that the game lets you play several other cool mini-games scattered throughout the cities. If you have been waiting for another Tony Hawk game, you won't be disappointed with this one.


FINAL SCORE: 8.0 OUT OF 10