WESTERN DIGITAL SN750 1TB NVME M.2 M2280 TECH REVIEW
The demand for increased storage and high-speed devices is greater than ever before! Next to graphics cards, the hard drives often come in as the leading component for performance upgrade.
Recently, I upgraded my Samsung 850 EVO SSD on Gigabyte Z97x-UD5H motherboard with the Western Digital SN750 NVMe Gen3 PCIe M.2 2200. I bought the 1TB version, which comes with a built-in heatsink. I paid $150 on Amazon (in October 2020).
With regards to actual performance, there is a big difference in speed. Using the Crystal Disk Mark test, the 850 EVO has an average of 480 MB/s in read and write. Respectively, SN750 has beaten that score with a whopping 830 MB/s.
That's nearly twice the speed of the 850 EVO! Normally, my "heavy-duty" games would load in about 7 to 8 seconds. With the SN750, these games would take only 3 to 4 seconds.
I am just fortunate enough that my motherboard comes with a M.2 slot as old as it is. I did not want to build a new PC yet as grinding for the latest parts, as you know, are quite expensive.
With the SN750, I am able to stay within budget, getting 1TB of space for $150. What's also cool is that I can download the new software on the WD website to unlock its full potential.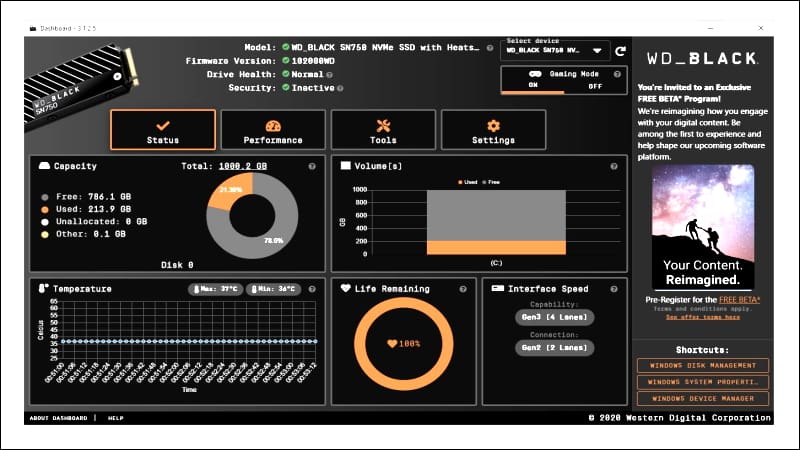 I used it to enhance my new M.2 drive via "game mode", which lowers latency between applications. With game mode enabled, I managed to squeeze about four more MB/s out of the SN750.
The other features that come with the software is the ability to access disk management (for re-partitioning), modify write-cache setting (such as disabling buffer flashing), view its performance (that is health, temps and speed), and update its firmware.
Since my motherboard is quite old, the interface speed is only limited to Gen2 (2 lanes) connection instead of the Gen3 (4 lanes) that is capable of. The only way I could achieve theoretical max speed is to use a PCIe M.2 drive adapter and install it on the available PCIe slot next to the graphics card.
The only downside to this method is that it would cut my bandwidth in half to the graphics card, going from 16x lanes to just eight. Besides, I am not going to invest in such adapter. I plan to move my M.2 drive to a new computer in the near future.
Installation was pretty easy. It only took about 10 minutes to be attached to the motherboard. But, I had some issues trying to boot from M.2 slot. After several hours of troubleshooting, I figured out that I needed two things: 1. Flash the bios to the latest firmware and second format the SN750 to a GPT partition. From there, the installation of Windows 10 was smooth sailing.
Nowadays, your average PC builders are always seeking for better ways to meet today's ever-changing technological challenges. The 1TB WD SN750 is decent upgrade to bring life back to your old system (provided that your motherboard accommodates it).
Since my initial installation of the SN750, I have no functionality issues. With the heatsink, temps stayed 55 degrees overload. I had to wait long enough before reviewing this drive to test out its stability. My impression of it so far has been generally good.
If you encounter booting issues like I did in the beginning, it's probably good to see if your motherboard supports the product. You may need to upgrade your BIOS and tinker what format (MBR or GPT) would work with your system.
Make sure none of the SATA hard drives are still connected because they can interfere with the detection of your M.2 drive. As for my verdict, SN750 seems to be a good NVMe M.2 drive and it cost less than $170, which is $200 with other brands in its class.
FINAL SCORE: 7.0 OUT OF 10