LAYING THE BIG SMACKDOWN IN WWE 2K BATTLEGROUNDS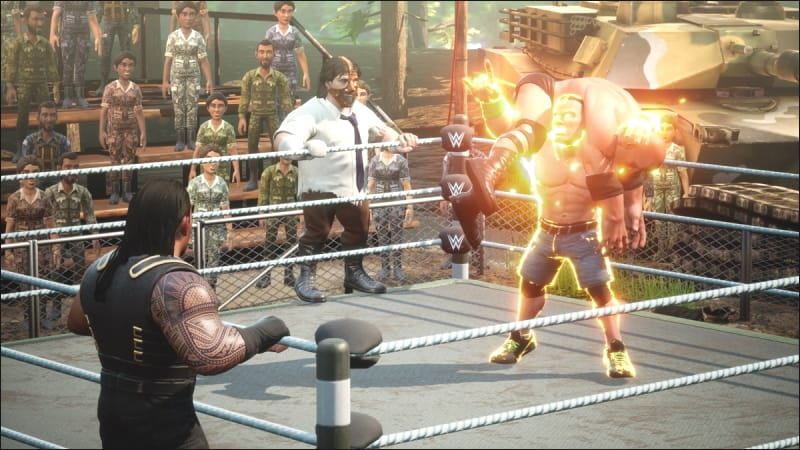 When I think of wrestling, I think of the great WrestleMania pay-per-views of the past. I was 12 when I saw Hulk Hogan slammed Andre the Giant on the canvas for the WWE Champion in WrestleMania III. That experience was one of the main reasons I got hooked into wrestling games early on.
Since then, I had been lucky enough to play through a plethora of wrestling titles, including WCW Mayhem, WWF Wrestlefest, and the Smackdown series. That same level of love for wrestling I had as a kid still continues on today through WWE 2K Battlegrounds.
WWE 2K Battlegrounds is not your traditional wrestling sim, it's designed to be an arcade brawler at heart. What makes it so great is the simplicity of controls mixed with today's can of over-the-top wup-ass! In just a few buttons, you can perform rocking combos, high-flying uppercuts, and even knock your opponent onto an alligator, waiting for some rare to medium rare snacks.
It doesn't take long for you to become a great wrestler either! The game is that easy to pick-up, get into and set-off crazy body slams. Despite not having a variety of individual move sets, I still enjoy unlocking new stages, power-ups, skills and stars along the way.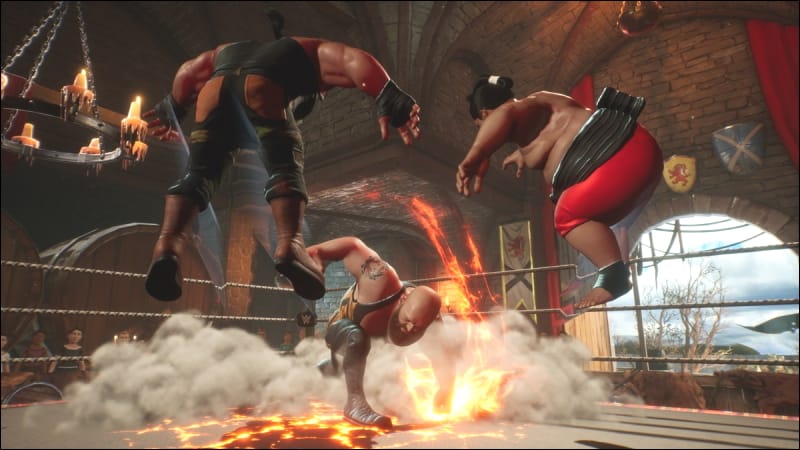 There are two ways to unlock special store items, whether it's a power-up or a new wrestler. Gold Bucks seem to be the fastest way to secure these items as it uses real money. The alternate method would be to use Blue Bucks, which can be earned by grinding through a campaign or competing in different types of events.
I like that Battlegrounds offers players purchasing power (no matter how small it is). It cuts back on capitalizing the "cash shop" exclusivity for gamers due to paywall and hard microtransactions.
Battlegrounds has a long list of superstars in its roster. It includes iconic wrestlers like Triple H, Rey Mysterio, Shawn Michaels, Jake "The Snake" Roberts, and The Rock. The game also has a rich set of exciting matches, such as King of the Battleground, Royal Rumble, Triple Threat, Fatal Four Way and more!
While the single player campaign provides a nice piece of story to work with, the best way to enjoy this game is through coop! There are plenty of matches that offer this type of tag team action. One great example is the tornado tag team mode. We had quite a blast playing it and love the absolute chaos that accompanied it!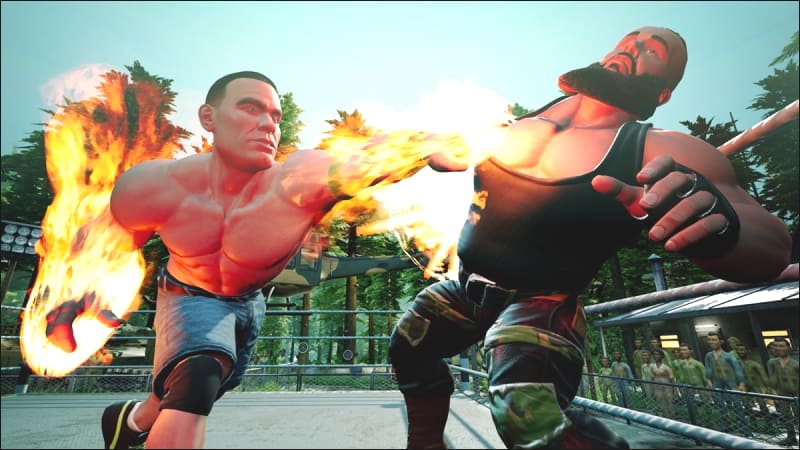 What I love most about Battlegrounds is the accessibility for local and remote play. If my friends can't swing by for a get-together smackdown, at least I have the remote play option to enjoy it in another way. Pity that I can't say the same for Crossplay; it's buggy, which makes it hard to find a decent match.
In terms of graphics, the game has an incredible comic style artwork to it. I like how the wrestlers are lavished with vibrant colors and how power-ups are seamlessly animated in battles! It's nice to see that each stage has a local theme, which corresponds to the interactive elements it tries to represent.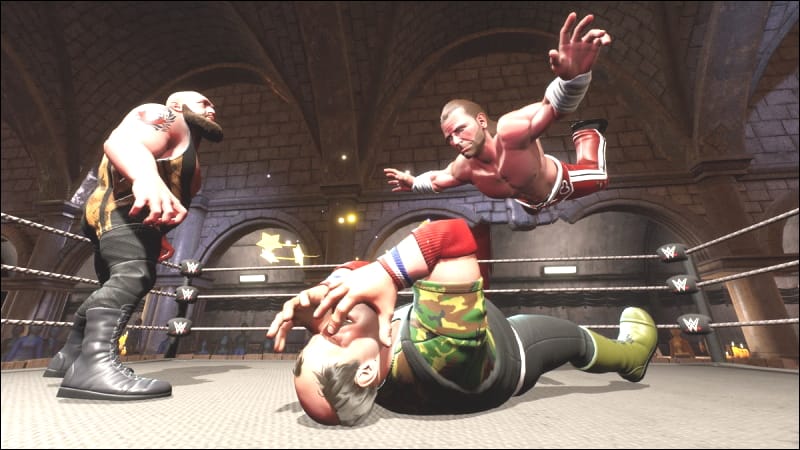 So, what's the verdict? Well, it certainly is a fun wrestling game. You've got a huge roster of real superstars to choose from, a great gameplay filled with insane moves, simple controls, and very fun local co-op experience. What is also great is that the premium content (as I call it) is not locked exclusively behind the paywall. You can unlock these items by simply playing tons of matches, which earn you loads of Blue Bucks.
Just to make things clear, this is an arcade game so don't expect any kind of advanced fighting mechanics here. This is not meant for serious sim fans. If you've enjoyed games like WWE Arcade and NBA Playgrounds, this is definitely something you should consider. As for me, it's exactly the kind of game I was looking for: a simple brawler doused with a rambunctious wrestling action.
FINAL SCORE: 8.0 OUT OF 10